Sonos' debut smart speaker is a cleanly designed, feature-rich and great-sounding device that brings together the best of both ecosystems. You've got ever-improving voice assistants, including Alexa and Google Assistant, on the one hand, and on the other you've got Sonos with its own multi-room smarts. If you're prepared to pay the price premium over Amazon's or Google's first-party speakers, the One is the best smart speaker bar none. Keep reading on for the Sonos One speaker review.
Sonos One Speaker Review
Design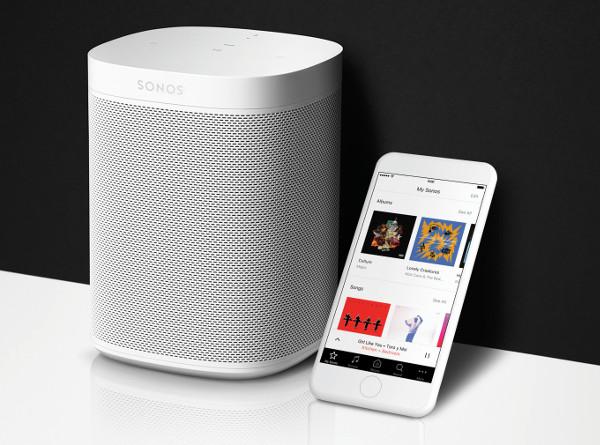 Although the Sonos One's design is broadly based on the company's existing Play:1 smart speaker, there have been a number of improvements made.
On the top you'll find a touch-sensitive surface that's a great deal sleeker than the Play:1's trio of volume and play/pause buttons. Swiping right or left skips forward and backwards through your current playlist, while tapping in the center of the surface plays and pauses your music. Finally, tapping the left and right halves of the panel raise and lower the volume.
It might be a simple series of controls but, as has always been the way with Sonos speakers, you'll spend most of your time controlling them via the app. The physical controls are nice when you want to quickly skip a track, but you're unlikely to use them much, especially now that voice control is also an option.
To facilitate this voice control, Sonos has equipped the speaker with six internal microphones to allow it to hear you drunkenly ask to play 'Hey, Jude' just one more time, and these are joined by more or less the same guts as the Sonos Play:1; namely its pair of Class-D amplifiers and a tweeter / mid-woofer driver combo.
On the top of the device you've also got a power-indicating LED alongside a small light to let you know when Alexa is listening. This second LED is hardwired to the microphones, and Sonos promises that the microphones cannot listen to you if it's not illuminated.
Features
Although you can switch Alexa and the Google Assistant off entirely, it's often worth having them listening, particularly as they're more deeply integrated here than with many rivals.
Alexa is particularly well implemented, in that you can talk to the One exactly as you would Amazon's own Echo, so instead of having to say "Alexa, play Bowie on Sonos", you simply say "Alexa, play Bowie", and one of his classics will spring forth from your One. That might sound like a small detail but, in terms of regular interaction, it's a big difference.
If you want to voice-control music in other rooms, specify where (eg. "Alexa, play Bowie in the lounge") and the One will send music to the Sonos kit you've ascribed to that 'zone' – even a non-Alexa-enabled Sonos speaker, such as a PlayBar or Play:5. "Alexa, play Bowie everywhere" sets all your Sonos speakers to synchronised Ziggy Stardust mode.
If you're worried that having Dancing In The Street blaring from your One will prevent Alexa or the Google Assistant from hearing your request to skip Dancing In The Street, a combination of noise cancelling, something called "smart voice capture" and a custom-designed six-microphone array ensures that you can always be heard.
The Sonos One launched only supporting Amazon Music but has now added Spotify, Deezer, TuneIn and Audible voice control into the mix, which is very welcome.
Multi-Room Audio
Like all other Sonos speakers, the One supports multi-room, whole-home music playback through the Sonos app. The company has built the most robust and broadly supported proprietary multi-room music platform on the market, but the speaker provides other, more open, options as well. The Sonos app works with more than 50 different streaming music services, including Amazon Music, Apple Music, Google Play Music, Pandora, SiriusXM, and Spotify. You can also play music locally stored on your smartphone, tablet, or computer (Sonos Controller software is available on Android, iOS, Mac, and PC).
That wide support should cover all of your music needs, which helps take the sting out of the One's lack of Bluetooth or any wired audio connections. If Sonos' own list of supported apps aren't enough, you have two other wireless options as well. If you're an Apple user, the speaker supports AirPlay 2. The Sonos One will also work as a Google Cast-compatible speaker if Google Assistant is enabled.
All three systems can handle multi-room, multi-speaker setups. However, if you want to add a non-voice-assistant Sonos speaker like the Play:5 to the mix, you should stick to Sonos or AirPlay; Google Cast only works with Sonos' voice assistant speakers when set up to use Google Assistant. Sonos' own multi-room system also supports stereo pairs and home theater configurations with multiple channels, letting you connect two One speakers with a Sonos Beam, Playbar, or Playbase to serve as surround sound satellites, just like the Play:1.