Nothing beats good food and breathtaking views, so why not combine the two and head out for a picnic. We've taken the hard part out of your picnic organization and put together a list of seven of the best spots you can set yourself up at around Auckland. There is a wide range of gorgeous picnic spots in Auckland for you and your boo (or dog), a bunch of mates or the fam bam. We've located the best places to have your next picnic—now all you have to do is rally your picnic companions, pack a feast and enjoy.
Picnic Spots in Auckland
Te Atatū Peninsula walkway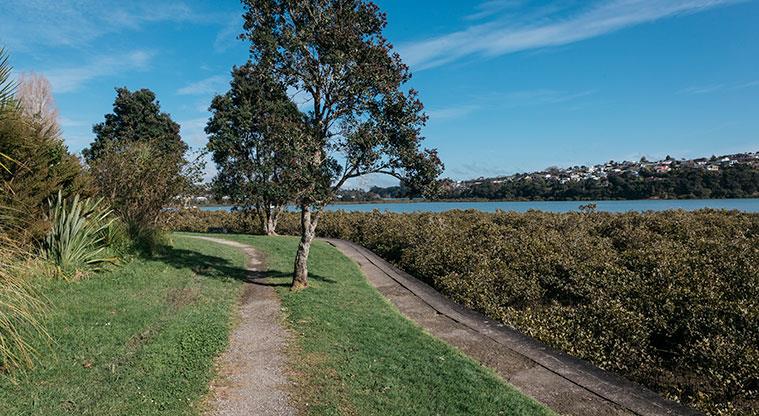 This popular walkway stretches along the northern and eastern edge of Te Atatū Peninsula and looks out across the Waitematā Harbour.
Starting at Harbourview-Orangihina Park, the 4km walkway is an easy stroll that extends through to Chapman Strand. Enjoy a picnic along the walkway and take in the beautiful views.
Ōtāhuhu Recreation Precinct
Give your kids the feeling of exploring one of Auckland's volcanoes with large grass mounds and craters, slides to the bottom, small ground-level trampolines which are safe and accessible, and plenty more play equipment.
The park is just minutes away from a library, aquatic centre and community teaching garden, making it ideal for a full day's worth of adventure.
Takapuna Beach
The fact that this North Shore beach hums with people every day of the year is a tell-tale sign that it's downright awesome. While there are a handful of great cafes in Takapuna, grab some goodies from your local deli/bakery/grandmother and settle down on the beachfront. It's the perfect place for some dog watching or even a dip… waiting an hour for that picnic fare to settle, of course.
Mission Bay
It's no secret that Mission Bay is an Auckland hotspot. The place buzzes with people splashing in the sea, going for strolls or hitting up one of the many cafes. However, there's no better way to experience Mission Bay than with a picnic. There's plenty of room on the beach and grass area, or if you're looking for an epic elevated spot, head up to Bastian Point, where you'll be treated to sprawling views of the Waitemata Harbour.
Cheltenham Beach
This Devonport gem was once one of Auckland's best-kept secrets. Now that the cat's out of the bag, we might as well let you in on why it's so special. Cheltenham Beach is a long stretch of sandy bliss nestled behind North Head and is one of the more secluded picnic beach spots in Auckland. It's a tidal beach, so keep that in mind when planning your picnic, but there's plenty of room to sit down and enjoy the views. Pick up some fish 'n' chips, and see go see what all the fuss is about.
Cornwall Park 
How lucky are we to have this massive green oasis in our city?! Cornwall Park has everything you could ever want for a cruisy picnic. The place is gigantic so you don't have to worry about people accidentally sitting on your D.I.Y charcuterie board. Pack the sausies for this picnic—there are barbecues throughout the park. And cows, but they're just for looking at.
Wattle Farm Reserve
Head South and escape to this hidden spot near Manurewa. Wattle Farm Reserve has plenty of walkways around the peninsular that extends out to the Manukau Harbour. Find a lil pozzie for your picnic crew and bring your binoculars to spy on the birds hanging out in the wetlands and ponds.
The Pumphouse
Everyone on the Shore knows Lake Pupuke, but not so many know about The Pumphouse. Home to a (pretty cool) theatre and some deadly swans, The Pumphouse is a pretty cool spot to have a picnic—although make sure you don't go during swan breeding season, because things can get messy.
Piha
Located in the Waitakere Ranges area, 45-minute drive west of Auckland City, Piha is one of the stunning picnic spots in Auckland which renowned as a prime hangout for surfers. However, it'll also appeal if you're seeking the more sedate charms of a picnic. With large picnic tables available, lots of sheltered park areas and plenty of sand to wander barefoot on, you won't have any trouble finding a beautiful spot to settle down to. If you fancy a dip, the beach is patrolled by surf lifesavers during the summertime. Prefer to stay on dry land? The nearby Mercer Bay Walk is an ideal option for a post-lunch constitutional.